Prep 2 hrs 15 mins
Cook 0 mins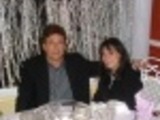 Peaches and raspberries - two of my very favorites. Enjoyed in this delicious smoothie, it's hard to remember that it's good for you too!
4 peaches, pitted and cut into 1-inch pieces, about 2-1/2 cups
1 (6 ounce) container fresh raspberries, about 1-1/2 cups
1 (6 ounce) container fat-free peach yogurt
3⁄4 cup peach nectar
3 tablespoons sugar (optional)
mint sprig (optional)
Directions
Arrange peach pieces in a single layer in a freezer-proof container. Cover; freeze until very cold but not frozen solid, about 1-2 hours.
In a blender, combine peach pieces, raspberries, yogurt, nectar and sugar (if using). Puree until very smooth, about 2 minutes. Pour into four tall glasses, dividing evenly. If desired, garnish with mint.
Reviews
Most Helpful
Love the peach and raspberry combo! Thanks for sharing! Made for ZWT8

This was simple and delicious, I used vanilla yogurt in place of peach but it was plenty peachy anyway - I would probably add a few more raspberries next time.
this is very good jumex makes a a can of peach nectar that i got at walmart i did add some ice cubes to my 1 helping and used canned peaches which arent as good but i got em this easy peezy lol deemade for zaar tour 8