Frozen peach ice cream pie in a crunchy chocolate crust...a cool treat on a hot summer day! From the Peach Tree Tea Room in Fredericksburg, TX, deep in the heart of Texas hill country. Would be extra refreshing garnished with fresh mint leaves. You could also make these in muffin pans for little individual frozen peach ice cream tarts. Cook time does not include freezing time.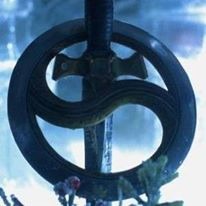 What a wonderful treat! We loved the combination of chocolate and peaches. I'm constantly looking for desserts that I can prepare on the weekend and freeze for later in the week. This was perfect! Thanks for sharing the recipe.
7

tablespoons butter
1⁄4 cup brown sugar

2

ounces unsweetened baking chocolate
1⁄2 cup semi-sweet chocolate chips

3

cups corn flakes
1 1⁄2 quarts peach ice cream, softened

3

ripe fresh peaches
Melt butter in medium saucepan.
Reduce heat to low, add brown sugar and chocolates.
Stir constantly until ingredients are thoroughly mixed, sugar is dissolved, and chocolate is melted; set aside.
In large bowl, combine corn flakes and nuts.
Pour warm chocolate mixture over corn flakes; stir gently until all flakes are coated with chocolate.
Press gently into greased 9" pie pan, forming a crust.
Place in freezer until firm.
Fill crust with softened peach ice cream; return to freezer to harden.
Just before serving, peel and slice fresh peaches.
Cut pie into 6-8 wedges and top each with fresh peach slice.