Peach Glazed Pork Chops (Oamc)
Pamela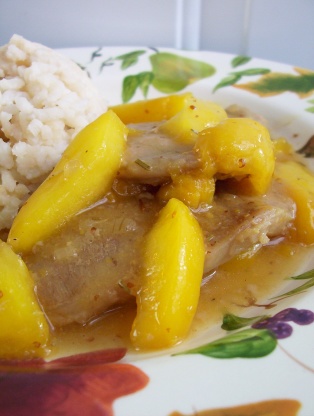 There are several recipes on 'Zaar that feature the combination of sweet peaches with pork chops, roasts or tenderloins. This one is unique not only in its spices but in its preparation. A featured entree from Dream Dinners, the franchise that helps families prepare make-ahead meals, this dish recently appeared in Family Circle magazine. I've trying these without freeze and they were wonderful and saucy without being too sweet. I added a pinch of ground ginger to mine and will most likely add a wee bit of extra onion, but not so much as to change the balance of sweet and savory flavors. Have some additional bags assembled but have not yet defrosted and cooked. If you are making these fresh you can skip the bagging, frezing and defrosting steps (1-2). (279 cal/14 g fat/2 g fiber)

Top Review by Pamela
I was really looking forward to trying this recipe as I am always on the lookout for new OAMC recipes, but unfortunately this recipe just did not go over well for us. I used fresh peaches which were totally soggy after cooking and somehow the rosemary/peach combination was not enjoyed by any of us. It did however, look really good and smelled terrific while cooking. Sorry, but we won't be making this again.
To assemble and freeze, place all of the ingredients in Bag 1 in one resealable bag and close. Place chops in a second bag. Place both bags in a third bag, close and label. This can remain frozen for up to 2 months.
To defrost, place in fridge 2 days before preparing.
To prepare, season pork chops with the salt and pepper. Heat oil in a large non-stick skillet. Cook chops about 4 minutes on each side.
Remove 1/4 cup of liquid from the peach mixture and set aside. Add the remaining contents of Bag 1 to the skillet with the chops and bring to a boil. Reduce heat to medium-low and simmer about 3 minutes.
Mix the cornstarch into the reserved liquid and add to the pan, stirring an additional minute to thicken the sauce.
Serve with rice pilaf and steamed green beans or broccoli.