Peach-Glazed Baby Back Ribs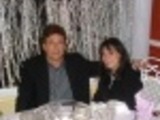 This is a nice alternative to your typical barbecue sauce-slathered ribs. Sometimes you just want something different!
Directions
For glaze, in a small saucepan cook and stir preserves, lemon juice, mustard, and cardamom over low heat until preserves melt. Set aside.
In a covered grill arrange preheated coals around a drip pan; test for medium heat above pan.
Sprinkle ribs with salt or onion salt and pepper . Place ribs on rib rack, if desired. Place ribs, meaty side up, on grill rack over drip pan, but not over the coals. Lower grill hood.
Grill ribs for 60 minutes, brushing with glaze after the first 30 minutes. Uncover; grill for 15 to 30 minutes more or till ribs are tender, brushing occasionally with glaze. Serve with peach slices and any additional glaze.
Most Helpful
The marinade was really tasty and I enjoyed that. I would rather boil ribs before grilling them because we didn't like all of the fat. I would use the marinade again for sure! Served with mashed potatoes and veggies and made for Holiday Tag. Thanks! :)

Wonderful recipe! It was very unusual for me to have baby back ribs without bbq sauce but this glaze was terrific and great with the pork. This grilling method resulted in tender and tasty ribs. Great change from the ordinary - thanks for posting the recipe!