alligirl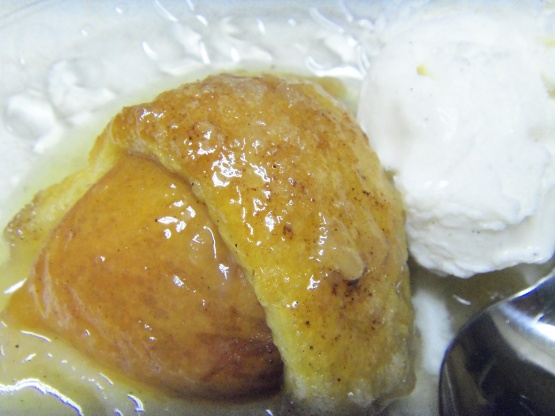 Recipe by SB6
You MUST try these if you love peaches. Heck they're great using apples, bananas whatever you love. Would be even more sinful with a scoop of ice cream.
I made a scaled back version, making 1/2 of the recipe and did sub a Granny Smith Apple for the peach. The only other change I made was to sprinkle the inside of the roll with cinnamon/sugar and then again on top. I loved the smell while these were baking, combination of the cinnamon and butter, yum. I have never made dumplings so not sure how they are supposed to be, but mine were soggy on the bottom and nice and crispy on the top, great contrast in textures. My only problem is that all that butter/sugar/water mixture remained in the pan and seemed wasteful, but they were tasty treats!! Thanks for sharing the recipe. Made for your win in the Football Pool Game.
Quarter peaches. Roll each quarter in a crescent roll and place in a greased baking dish.
Bring water, sugar & butter to a boil. Pour over rolls. Sprinkle with a little cinnamon & a bit more sugar.
Bake at 350 for 30 minutes.