lazyme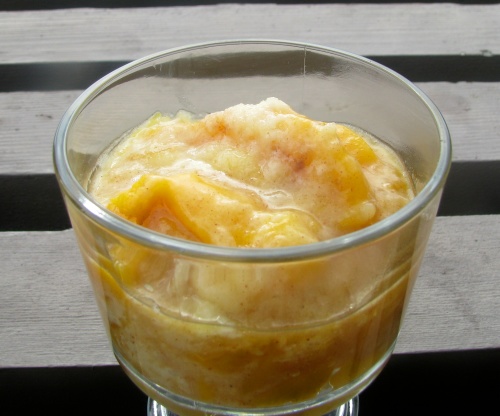 This is a take on peach dump cake made with a cake mix. This recipe uses Crumb Cake Mix and is perfect for a couple or small family.

I had one cup of PaulaG's crumb cake mix left to use up, so I doubled everything and used a 29 oz. can of peaches. It was really good! Made a delightful homey dessert that we can have for two meals! PaulaG, thanks for another great recipe!
Preheat oven to 425°F.
Empty the canned peaches into a 1 quart baking dish that has been sprayed with non-stick cooking spray.
Mix in the cinnamon and brown sugar; sprinkle with the Crumb Cake Mix and cut butter into 4 equal portions and place on top.
Cover and bake in preheated oven for 20 minutes; remove cover and continue to cook for an additional 10 minutes or until top is brown.
Can be served immediately or is also good room temperature.