Peach Custard Pie With Streusel Topping
Swirling F.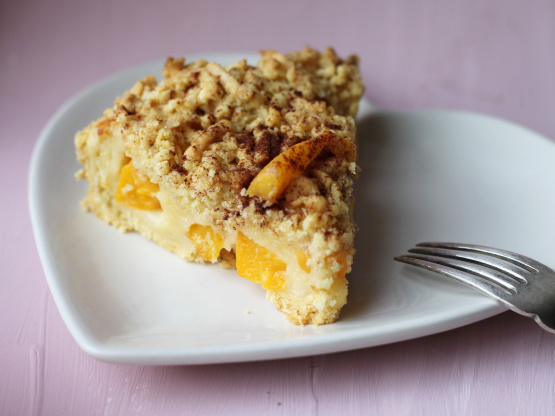 This pie is the best pie I have ever tasted. No Joke! I love this so much and my peach crazed hubby loves it even more! You can't go wrong with this yummy pie. The filling is just perfect and the streusel topping gives it a nice crunchy layer on top. Mmm... its amazing!
Top Review by mtnmel
What a wonderful pie, I'm still in awe. I used my own crust, and since fresh peaches are not in season now, I used 1 large can of sliced peaches and 1 large can of sliced apricots (drained). Will cut back a little on the sugar topping next time. The combination of textures and flavors give this pie a 10 star rating in my book. Thank you so much for sharing this recipe. This was so yummy now, can only be better with fresh peaches!?!?!?!
Preheat oven to 425°F.
Crust:.
Combine flour, salt and butter with fork until crumbly.
Add in water one tbs at a time until soft dough forms.
Gather into a ball and roll out into a circle about 1/8 inch thick.
Place 9 inch pie plate upside down on crust and cut off excess dough, leaving 1 inch overhang.
Place crust into pie plate and arrange as you wish.
Filling:.
Peel and slice peaches 1/4 inch thick and line the crust in a circle, slightly overlapping each other until you have an outer circle and inner circle. (Save any excess slices for garnishing the top of the pie if you wish.).
Whisk together sour cream, egg yokes, sugar, flour and vanilla until just blended and pour over top of the peaches.
Bake for 30 minutes until custard in mostly set.
Streusel Topping:.
Combine butter, flour, sugar and cinnamon with your fingers until crumbly.
Sprinkle evenly over top of pie and bake for an additional 15 minutes until custard is set.
Note: If your crust browns too fast cover the crust with foil.
Let pie cool and serve cold or warm.
Enjoy!