Calee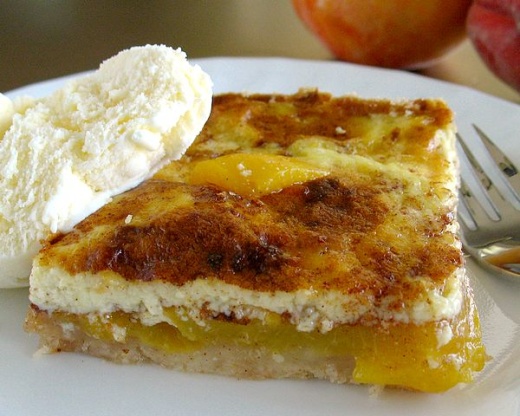 If you are a peach cobbler lover that eats around the peaches and goes for the crust, this is for you. Feel free to add more peaches if you want, but would recommend you trying it this way first. Found this in Betty Crocker's Best-Loved Recipes.

Top Review by Ash205
I found this recipe while searching for a quick dessert to make using frozen peaches from this summer. I made several changes based on what I had handy: Formed the dough in a pie tin, used 2 c. peaches in the middle, my 4 year old decided to "help" and mash some peaches - so I threw those in the custard, added a bit of almond extract to the custard, I also didn't have whipping cream, so I used milk with cornstarch and flour... and I forgot to bake during the first step... Lesson: This is a totally fool-proof recipe. I did have to bake it for about 40-45 minutes, but it was well worth it. I could barely wait for it to cool at all before cutting into it! Delicious!
Heat oven to 400 degrees F.
Stir together flour, 2 tablespoons sugar, the salt and baking powder.
Work in butter until mixture is crumbly.
Pat mixture firmly and evenly in bottom and halfway up sides of ungreased square pan, 8 x 8 x 2 inches.
Arrange peaches in pan.
Mix 1/3 cup sugar and the cinnamon.
Sprinkle over peaches (it may seem like a lot, but it's not).
Bake 15 minutes.
Blend egg yolks and whipping cream.
Pour over peaches.
Bake 25 to 30 minutes or until custard is set and edges are light brown.
Serve warm with vanilla ice cream.
Refrigerate any remaining dessert.