ImPat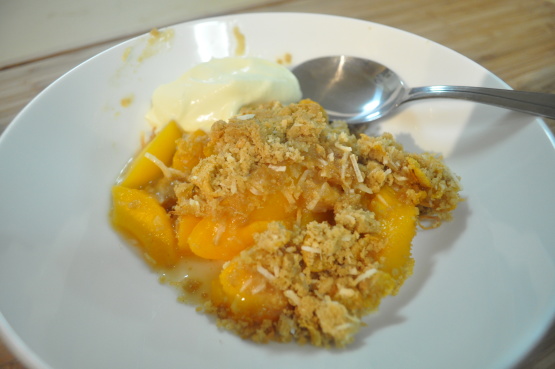 Any stewed fruit could be used here.

Top Review by ImPat
I scaled this back for 3 serves and got 4 generous serves but as I was making it for the DM and DS that was fine as I will serve the other 2 tonight (made for last nights dinner) cold with some icecream (last night I served with a dollop of cream). The only change I made for dietary reasons was to use half brown sugar (1/4 cup) and 1 tablespoon of sugar substitute (which was the equivalent of the 1/4 cup). This was a very easy dessert to bring together especially as I prepared early in the day and then popped it in the oven 45 minutes before wanting, aloowing some time to cool a little and serve and most importantly the DM and DS thoroughly enjoyed. Thank you katew, made for Make My Recipe.
Cream butter and sugar.
Add flour and other ingredients except fruit.
Place drained fruit in an ovenproof dish.
Pour mixture over the top.
Bake 180 C for 30 minutes.