Peach Crisp for Charlotte J
Rita1652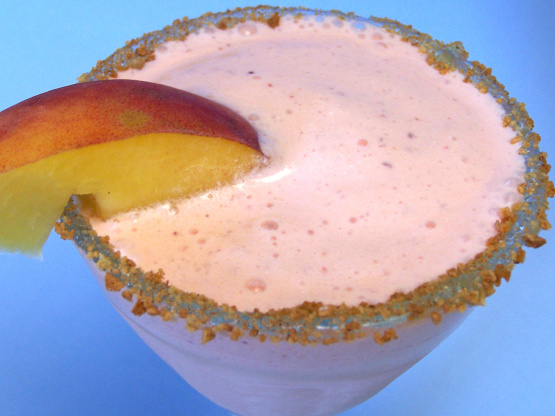 Here's an other dessert in a glass! For Charlotte and all that loves their Peaches and Drinks. To kick it up feel free to add candied ginger.

I almost had to wait to make this again as the family keeps eating all the vanilla ice cream. But I got it done tonight. Simple to make and a nice peachy flavor! This was a little strong for me but not strong enough to stop me from drinking it. Thanks Rite for finding a recipe I can use some of these peaches with.
Mix cinnamon,sugar and cookie place in a flat dish.
Dip rim of chilled ice cream sundae glass into peach preserves then into cinnamon, sugar and cookie mixture.
Pour peach vodka, grenadine, peach, vanilla ice cream into a blender with ice.
You can also put in the remaining cinnamon ,sugar and cookie into the blender.
Garnish with a slice of peach, and serve.