Bayhill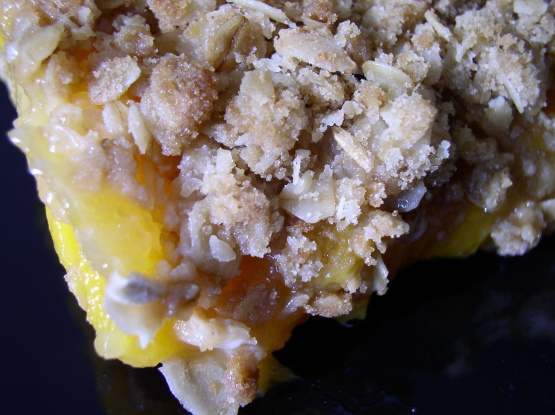 I love peaches, so I naturally like this! You may want to double the amount of peaches. I actually stock up on fresh peaches from the farm when visitng relatives while they are in season and freeze them - I rarely use canned. I am submitting the original recipe, however as I know many do not have access to peach farms! This crisp has a bottom crust and a crumbly, oat-y topping....Good warm with or without ice cream and cold.

YUM! This was fantastic! I used a 29 oz. can of peaches, but would probably use even more next time! The double crust was perfect!!
In a bowl, combine flour, brown sugar and salt.
Cut in butter until crumbly.
Pat into a greased 9" square baking pan.
Bake at 350 for 15 minutes.
Meanwhile, drain the peaches and reserve juice in a medium saucepan.
Add the sugar and cornstarch; bring to a boil, stirring constantly.
Boil for 2 minutes or until thickened.
Remove from the heat; stir in peaches.
Pour into the crust.
For topping, combine oats, brown sugar and flour.
Cut in the butter until crumbly.
Sprinkle over filling.
Bake at 350 for 25-30 minutes or until golden and bubbly.