Collsyl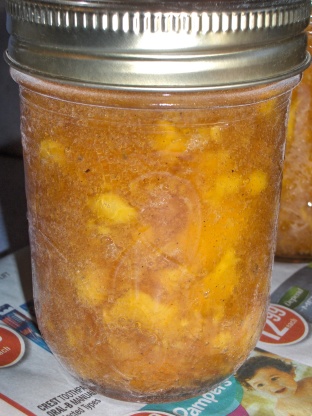 Thanks to the reduced amount of sugar, it tastes extremely peachy, but with a smooth little kick. It makes a nice thick jam, that goes great on challah or a croissant.

I reduced my sugar even further, down to 2 cups. My pectin said I didn't have to put in any sugar at all, and I don't like really sweet jams. My only complaint is that it has too much cardamom for my tastes. Next time I will just put 1 tsp in. It's good, but it's potent stuff, and 2 tsp seemed to overwhealm all other flavors.
Peel, pit, and chop peaches. Measure 4 1/2 cups of chopped peaches.
Combine peaches, lemon juice, pectin, and 1/4 of sugar. Bring peach mixture to a boil.
Add remaining sugar. Boil hard for 1 minute.
Remove peaches from heat. Stir in cardamon and vanilla extract.
Ladle into sterilized jars. Process in a boiling water bath for 10 minutes.