Annie H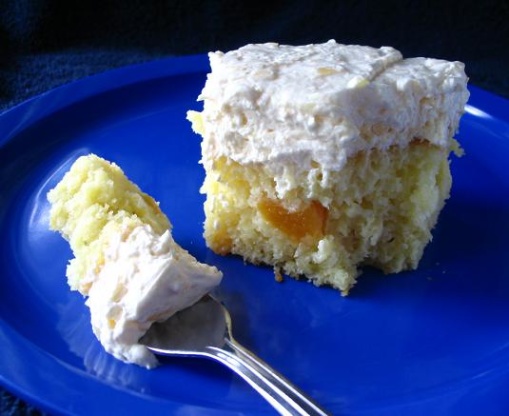 This recipe came from "101 Things to do with a Cake Mix" by Stephanie Ashcraft. I got this book from my gran and am sharing a few of the recipes here!

I made this with a yellow cake, I really do not like lemon and the presentation and taste were wonderful. We have friends that are getting fat from all of my 'zaar recipes. Great dessert and easy to make.
Preheat oven to 350°F.
With a fork,mix together the cake mix, pie filling, and eggs.
Gently add sour cream.
Spread into a greased 9x13-inch pan (preferably glass).
Bake for 30-35 minutes.
Remove from oven and let cool completely.
Mix together softened cream cheese, crushed pineapple with juice and instant pudding.
Gently fold cream cheese mixture into the whipped topping.
Spread on cooled cake.
Must be refrigerated.