klloch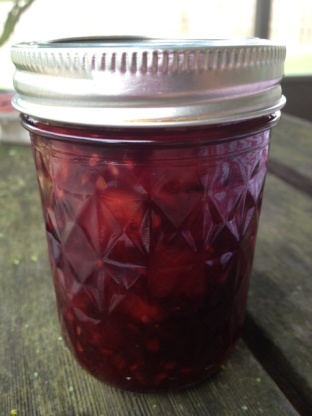 Excellent combination of flavors making for a slightly more tart jam than regular peach jam.

Top Review by klloch
I've had so many compliments on this jam! Even my 20yr old who's new to all things jelly/jam etc...swears this is da bomb! Also, have been told by a friend's younger son that it was better than his grandmother's...shhhhhhhhhhhhh! It is delish for sure! This last batch I made with the last of the south AL peaches...I grated a little fresh nutmeg into it. YUMMMMMMM
Peel and chop peaches. Put peaches, blackberries and lemon into a pot, stir to coat the fruit with the lemon juice and bring to a boil over medium high heat.
Add the powdered fruit pectin and bring to a boil again. Add the sugar and cinnamon and bring to a hard, rolling boil. Boil for 15 minutes, stirring often.
Ladle into hot, sterilized 8 oz. jars and seal. Process in water-bath canner for 10 minutes.