Peach and Strawberry Smoothie
This recipe, pretty much intact, was found in the 2000 cookbook, Ultimate Smoothies.
1 1⁄2 cups peach nectar
2 tablespoons honey
2 large peaches, ripe, peeled, pitted, chopped
1 1⁄2 cups strawberries (fresh or frozen)
2 medium bananas (if berries aren't frozen, freeze at least 1 banana)
Directions
Place all ingredients in a blender & process until smooth.
Pour into tall glasses & ENJOY!
Most Helpful
Another winning combination! I used both frozen peaches and strawberries, and used agave nectar in place of the honey. Delightful!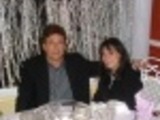 Yum! Perfect on a hot summer day. I used a Hawaiian white honey. I used fresh peaches and strawberrries since they are in season and then used frozen bananas. Made for PRMR.

I used about 2 cups nectar, frozen strawberries, bananas and peach slices (all homemade). I reduced the honey to 1 tbs. It was very, very good. My toddler and two sons really liked it. This would be delicious as popsicles, too--freezing in molds or small plastic cups. Thank you Syd! Made for Beverage Tag, June '09.