Peach and Roasted Red Pepper Bruschetta
Diana Yen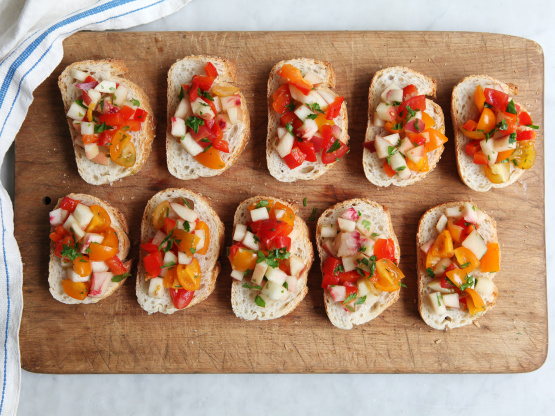 By Jennifer Mackenzie of Food and Drink, who says: The sunny summer flavours of roasted peppers and juicy peaches give new life to this favourite appetizer. Try the bruschetta mixture on grilled fish or chicken, too. Assemble just before serving for the best texture or, serve the toasts on a platter with the topping in a bowl and allow guests to build their own.
This dish was the hit of our tapas dinner party! I made it as written except for using a yellow pepper instead of red, and cutting it in half. The freshness sweetness of the peach is a nice contrast to the grilled pepper and the bite of the garlic, the fresh basil adds just the right touch.
Made for ZWT 8 Pick a Pepper Challenge by one of The Wild Bunch. Thanks for sharing Leslie, I'll be making this again!
Preheat grill to medium-high or broiler. Roast red pepper, turning often, until well blackened. Place in a bowl and cover with plastic wrap. Leave to cool.
Remove skin, stem and seeds from pepper. Finely chop the pepper and place in a medium bowl.
Stir in peaches, tomatoes, garlic, vinegar and basil. Season with salt and pepper to taste. Marinate for 30 minutes before serving or cover and refrigerate for up to 8 hours.
Before serving, bring peach mixture to room temperature. Lightly toast baguette slices on both sides. Spoon peach mixture on top of toasts.