Peach and Prosciutto Appetizer
ChefDLH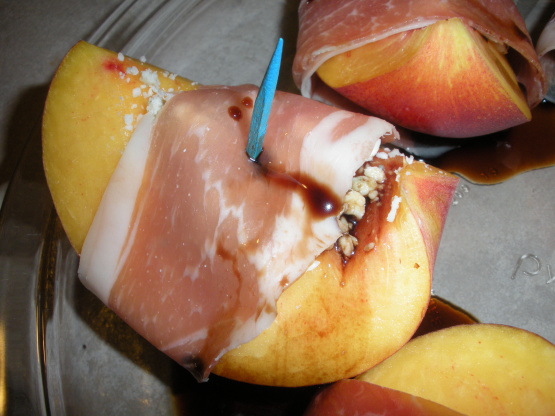 This is a delicious appetizer that makes quite a statement. There are combos like this but the secret ingredient is the AGED balsamic. If you don't have it and can't afford it look at the hint for an alternative. The aged is worth it though and now I use it for other dressings. This is from Brumley's originally. Delicious and a great presentation too. No cook for those great summer get togethers but a terrific treat anytime. Enjoy. ChefDLH

Made these as part of a pre-dinner appetizer & they were great! I'm not big on blue cheese, but it worked very well with the prosciutto & peaches ~ Very nice combo! Will certainly do these up again! [Tagged, made & reviewed for one of my adoptees in the current Pick A Chef]
2

large ripe peaches

8

ounces blue cheese (gorgonzola or Stilton preferably)

8

slices prosciutto
aged balsamic vinegar (drizzled)
quarter the peaches and remove the pit.
place one ounce of blue cheese in each pit side crescent.
wrap the blue cheese stuffed peaches with one slice of proscuitto ham.
place two on a dish and lightly splash aged balsamic vinegar over the top.
HINT *dissolve sugar to taste into regular balsamic vinegar for a less costly rendition of aged balsamic*.