Maito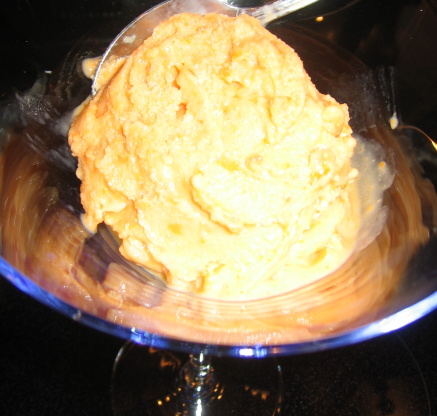 The custard base for this really good ice cream needs to chill overnight for best flavour. The amaretti called for in this recipe are small, almond flavoured biscuits imported from Italy. Many good supermarkets have them, or an Italian grocer.

Delicious and creamy! I used Splenda (for baking) instead of sugar, and we loved this low-carb ice cream, even though I didn't add the crushed amaretti (didn't know what they were!). Very easy and refreshing! Adding amaretti would probably have made it better, but it was perfect without them! Never knew this, but just read almonds are in the same family as peaches - so a perfect flavor combination.
2

cups whipping cream

4

egg yolks
1⁄2 cup superfine sugar

2

lbs peaches, peeled and cut into 1 inch pieces

1

tablespoon fresh orange juice

1

tablespoon almond liqueur

1

cup finely crushed amaretti
Bring cream to simmer in medium saucepan.
Beat yolks and sugar until pale yellow.
Slowly beat hot cream into yolks.
Return to saucepan; stir over medium-low heat until mixture thickens, about 6 minutes (do not boil or mixture will curdle).
Strain through a fine sieve into a metal bowl.
Set bowl into a larger bowl filled with ice (or cover with plastic wrap directly on the surface of the custard and chill overnight).
Cool custard completely, stirring occasionally.
Puree peaches in processor until smooth.
Fold 2 cups puree and orange juice into custard.
Process according to ice cream maker's manufacturer's instructions, until almost set.
Add liqueur and amaretti and process until set.
Let ripen in freezer several hours before serving.