Peach Almond Crisp (Simple and Lite)
Derf2440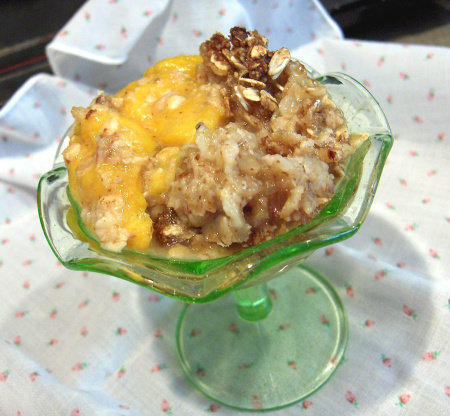 Ground almonds give a lovely nuttiness to this crisp topping.

I loved this. It IS simple and lite. I would not take this to a potluck where people would be expecting it to have more sugar and some butter, but it was a very nice treat for me or anyone who's trying to "liten" things up. Thanks.
4

cups sliced fresh peaches (or fresh frozen)

Topping

1

cup rolled oats
1⁄4 cup ground almonds

2

tablespoons Splenda brown sugar blend

3

tablespoons liquid honey
Preheat oven to 350F degrees.
Peaches:.
If frozen, thaw just half way, so that the peaches are still partially frozen. I like to use my frozen peaches but fresh peaches may be used.
Empty peaches and their juice into a 6 cup casserole, set aside.
In a small bowl, mix together rolled oats, almonds, splenda brown sugar mix and mix well; drizzle honey over mixture and stir through.
Spread rolled oats mixture evenly over peaches in casserole.
Bake in 350f degree oven for 45 minutes, until topping is well browned and crisp.
Depending on your peaches, this crisp is not sweet, just the way we like it; if you prefer your crisp sweeter add a couple of tablespoons of brown sugar mix to your peaches.