ClareVH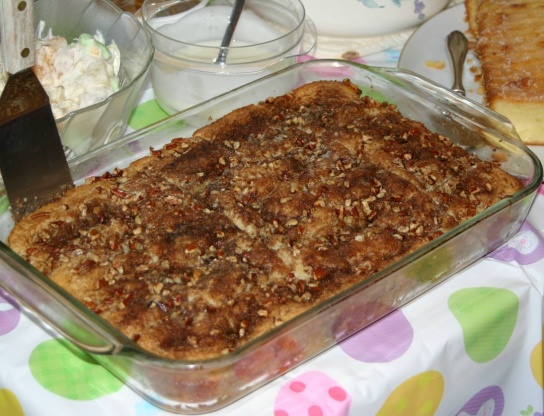 I created this cake for Easter Brunch. If you don't have self-rising flour, add 1 1/2 teaspoon baking powder and 1/2 teaspoon salt for each cup of flour used.
Preheat oven to 350*F.
For the Base: Melt the 1/3 cup butter in the oven in a 9x13-inch pan.
While the butter is melting, drain and slice the peaches; mix the brown sugar, cinnamon and ground cloves together in a small bowl.
Spread the sliced peaches over the melted butter and sprinkle evenly with the brown sugar mixture.
For the Cake: Combine the flour and sugar in a large mixing bowl.
Whisk together the half and half, sour cream, egg and almond extract; pour over the flour mixture and stir well.
Pour over the peach base and spread to the edges of the pan.
For the Topping: Mix together the brown sugar, cinnamon and slivered almonds and sprinkle evenly over the cake; drizzle with the melted butter.
Bake at 350*F for 28-30 minutes, until cake tests done in center.
For the Glaze: Whisk together all glaze ingredients until smooth; refrigerate until used.
Serve cake warm with glaze drizzled over individual portions.