Eviedevi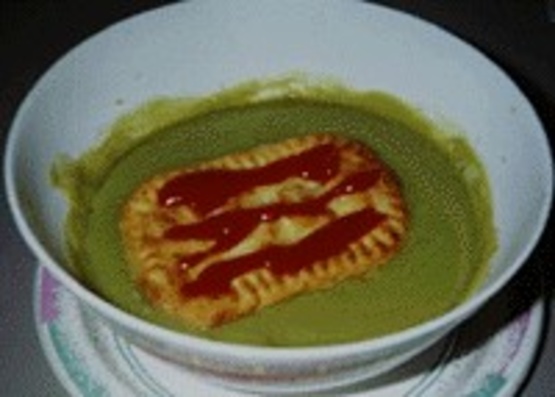 Traditionally Australian, the soup is very thick and is served with individual beef pies and tomato ketchup. Great on a winter night.

Seeing this recipe made me giggle! My hubby and I (yanks) were entertaining Aussie clients in ADL. They insisted we try this national specialty. Well, I love pea soup, not too crazy about the pie floater, but I gave it a go. Jim was less adventuresome, and he had a sausage roll. The soup was fantastic! Especially with a splash of vinegar! Pie wasn't bad either. Well, we found out why those who have a drop too much eat this after a wild nite: it is the most incredible alarm clock! We both were up bright and early vying for dibs on the toilet! The fresh/frozen peas are the true secret! YUM!
Boil ham hocks in water for at least 2 hours.
Remove fat and bones and return meat to the pot.
Add split green and yellow peas and tarragon.
Simmer slowly for about 3 hours.
Add carrots and cook another hour.
Season with pepper and add salt to taste if necessary.
Cook until peas are mushy and thick stirring to make sure they don't stick.
Serve with individual beef pie.
Can be thinned with water for a less solid soup and served with savory herb muffins or cheese scones.