This is an old standby I've served as a side dish for years at potlucks and gatherings. I have also stuffed the pea mixture into cherry tomato shells (minus the tomato in the ingredient list!) as an appetizer. Enjoy!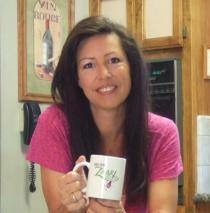 Wow this was delicious! I make a pea salad using mayo... so I wanted to try something different. I'm glad I did, this was a huge hit. The melody of flavors with the dill weed and cashews mixed together with the sour cream mixture was wonderful. I made this the night before serving and it was still crunchy and I think gave the flavors time to mingle. I will definitely make this again. Thanks for posting. (Made for Bevy Tag)
Fry bacon and drain on paper towels to cool.
Empty peas in a colander to thaw and drain.
Meanwhile, dice vegetables into small pieces.
Place peas in a bowl, adding sour cream, diced vegetables, bacon, cashews and seasonings. Small cubes of cheddar cheese can also be added if desired. Do not add salt until salad has been rechilled, because after flavors meld salt from cashews may be enough.
Chill and serve in a pretty glass bowl.Enjoy!