Pea, Ham and Corn Ravioli
hard62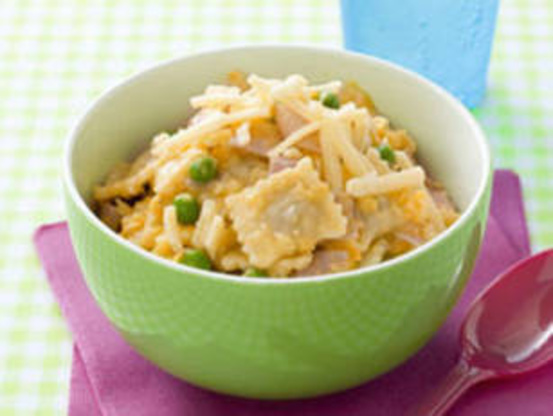 The kids will be racing to the table for this ravioli recipe made with peas, corn and ham.
200

g ravioli, Beef & Vegetable flavour
1⁄4 cup frozen peas

310

g creamed corn

75

g 97% fat-free shaved leg ham, chopped into small squares
1⁄4 cup cheddar cheese, grated
Bring a medium saucepan of water to boil. Add ravioli to boiling water. Boil, uncovered, for 3 minutes.
Add peas to pan with pasta. Return to stove, boil for a further 2 minutes. Drain pasta and peas well and set aside.
Place corn and ham in same saucepan. Stir over medium heat for 1 minute, or until hot.
Return pasta and peas to pan, along with half the cheddar cheese. Stir until all ingredients are thoroughly combined and heated through.
Divide ravioli between two serving bowls. Serve warm, topped with remaining grated cheddar.
If you prefer, any fresh vegetable can be substituted for the frozen peas in this recipe. If using beans, carrots or zucchini, boil, steam or microwave them first before adding to ham and corn mixture. Or you can try a combination of frozen mixed vegetables. For a change, puree creamed corn, peas (or any vegetable of your choice) with cheese in a blender. When ready to serve, heat sauce, stirring in a little milk or water to obtain the desired consistency.