Tisme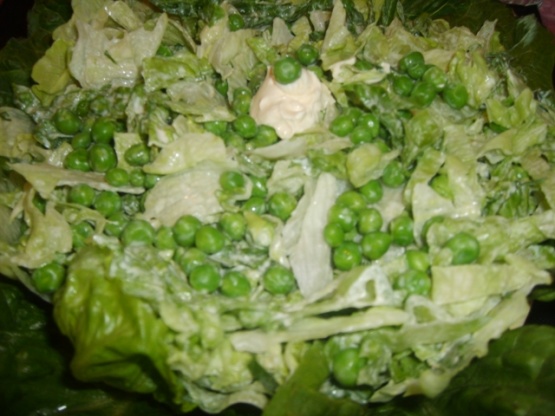 This is a beautiful fresh spring salad using simple everyday ingredients. I use this for bring a salad events when I know everyone else will bring potato salad, pasta salad or coleslaw. This one presents very nicely among the white of other salads and the bowl is always empty.

YUM!!! I found this fantastic! What a great change from traditional heavy mayo salads. I used frozen peas and 2 romaine hearts shredded and the salad has held up (dressed) for two days and holding. Peas and lettuce still crunchy!! Thank you for posting.
In a small bowl, mix sour cream, mayonnaise, and vinegar.
In a bowl, mix peas and lettuce. Stir dressing into vegetables and add salt and pepper to taste.