Tisme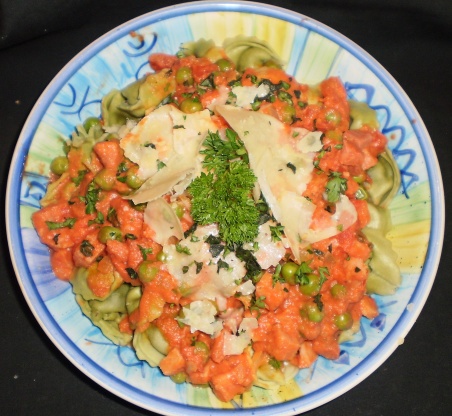 I've been making this pasta sauce for years. It's a good way to use up left-over ham and it's fairly quick and colourful. I like it over tortellini, but shells or spirals are OK too.

Easy & very tasty. Whole family liked it!
Heat the oil in a frypan, and saute the onion and garlic over medium heat until softened, about 5 minutes.
Add the diced ham and saute a further 2 minutes or so.
Add the tomato paste, and cook stirring for 2 minutes, then pour in the wine or stock.
If I'm using wine, I like to reduce it a little.
Now add the crushed tomatoes, peas and freshly ground black pepper and simmer for about 10 minutes.
No longer though or the peas lose their fresh green colour.
Add the cream and reheat gently, then stir through the chopped basil before serving.
Offer Parmesan cheese at the table.