Thorsten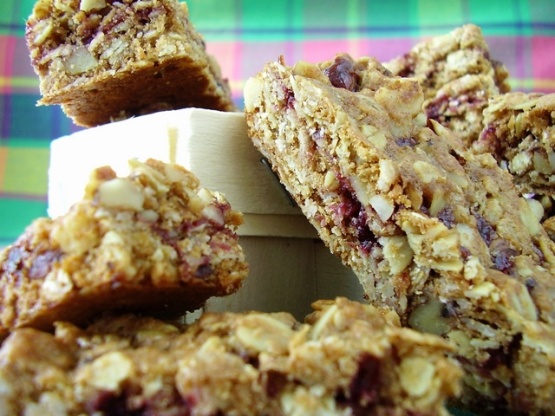 These oat bars make a nice after school snack or a good addition to anyone's lunchbox.

I just made this recipe for a bike tour in my community. One slight problem I had was that the oat base spread in a 13X9-inch pan (you're supposed to use half of it) than put the other half on top of the spreadable fruit. Well, it didn't quite make the same amount to put on the top as it ook to thinly spread on the base of the pan. Also the edges became brown and hard before the middle and sides became golden and done. They were tasty when finished. . . a real 'healthy/pure' flavor. The recipe was pretty easy to make and called for simple/handy ingredients. Hopefully the bicyclists will gain energy and find them tasty tomorrow!
Preheat oven to 350°F.
Spray a 13x9-inch pan with nonstick cooking spray.
Place oats, flour, walnuts, cinnamon, baking powder and salt in a bowl and whisk to blend.
Melt butter in a large microwave-safe bowl then whisk in peanut butter and brown sugar until well-blended.
Whisk in egg and vanilla then stir in dry ingredients using a large spatula.
Spread half the batter evenly over the bottom of the pan then spread the fruit spread evenly over the oat base.
Top with an even layer of remaining oat batter.
Bake for 25 minutes or until just beginning to turn golden.
A toothpick inserted will come out with a few moist crumbs clinging, and the sides will begin to separate from the pan.
Cool completely on a rack before cutting into 24 pieces.
Store at room temperature for up to four days.