Miss T.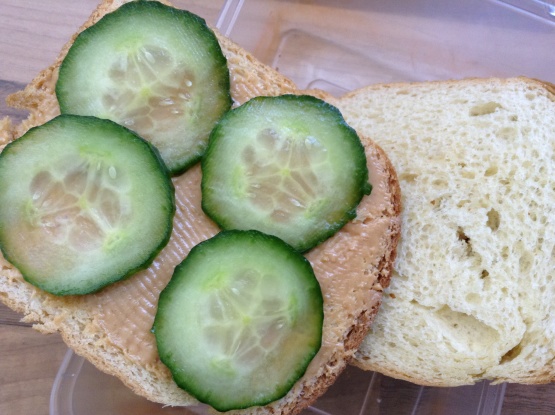 My grandmother used to make these for me as a child, and as strange as they may sound, they are wonderful!!! A good way to 'sneak' in a vegetable for kids!

I was going through my files on cucumber sandwiches this morning and realized I had not gotten around to posting a review on this delightful concoction. I particularly like it on lightly toasted roundels of fresh baguette. I run a hand full of dry roasted peanuts through my Champion juicer, like most foods, peanut butter is better fresh and since the Champion is so easy to clean, why not grind it fresh as I need it. I also like PB and banana sandwiches on whole wheat. I've tried most of my favorite PB sandwiches substituting other nut butters, almond, cashew, macadamian, Brazil, filbert and whatever else comes to mind. You can't hardly go wrong. Thanx for posting this great recipe, Pierre
2

slices white bread (okay, you can use 'healthy' whole wheat or multigrain, but I used to love it with good old white bre)

4 -5

slices of peeled cucumbers (thin slices)
Spread desired amount of peanut butter on bread.
Place thin slices of cucumber on peanut butter, and cover with second slice of bread.