PetsRus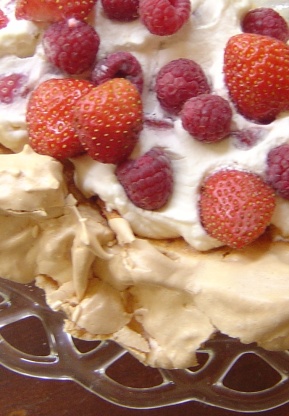 A beautiful pavlova crispy on the outside and a nice soft filling on the inside.Easy to make!From womens weekly cookbook
preheat oven to very slow (120 degrees c).
grease and line an oven tray with baking paper and draw a 18cm circle on it.
beat egg whites till peaks form.
gradually add caster sugar.
beating until sugar dissolves in between additions.
fold in cornflour and vinegar.
spread meringue on baking paper within the circle.
level top with spatula.
bake uncovered in oven for about 1 1/4 hours or till meringue is firm cool meringue in oven with door slightly open.
beat cream extract and icing sugar with electric mixer til peaks form.
serve meringue topped with cream mixture and berries.
You can also use kiwi fruit, paw paw, strawberries for your fruit topping.