Pavlova - from Edmonds Classics: New Zealander's Favourite Recip
Jenny J.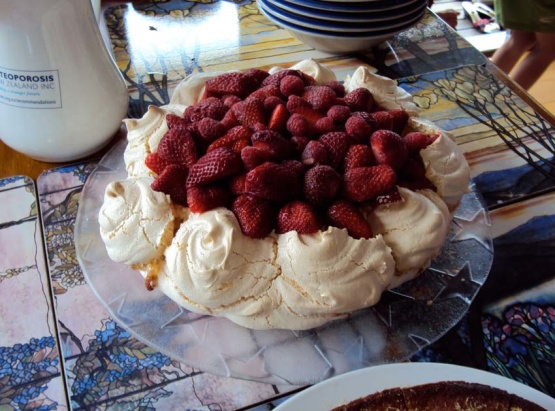 Submitted by Phillippa Eichler for A Trip Around The World.
Preheat oven to 180 deg C (350 F).
Using an electric mixer, beat egg whites and caster sugar for 10 - 15 minutes or until thick and glossy.
Mix vinegar, vanilla and cornstarch together in a small bowl, then add to the meringue. Beat on high speed for a further 5 minutes
Line an oven tray with baking paper. Draw a 22cm (about 9 inches) circle on the baking paper. Spread the pavlova to within 2cm (1 inch) of the edge of the circle, keeping the shape as round and even as possible. Smooth top surface. Place pavlova in preheated oven then immediately turn the temperature down to 100 deg C (210 F). Bake pavlova for 1 hour.
Turn off oven. Open oven door slightly and leave pavlova in the cooling oven until it is completely cool. Carefully lift pavlova onto a serving plate. Decorate with whipped cream, fresh berries and mint leaves. Serves 6.
If you don't have baking paper, you can use aluminium foil. I don't open the oven door here (in Kuwait) because the oven cools too quickly as the fan continues to run till the oven is cool.