KateL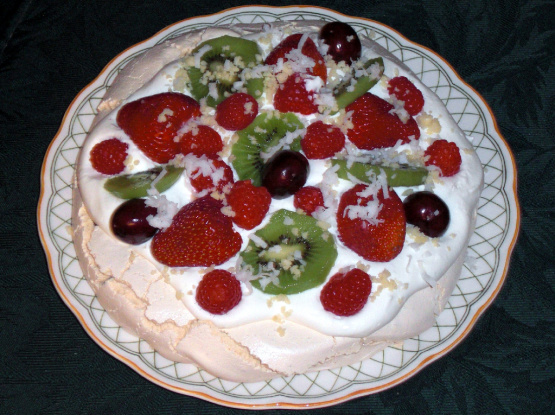 This light dessert is to die for!

Top Review by KateL
I was very curious to make this, claimed as the national dish of New Zealand. I normally do not eat many desserts and it shows in this review. This requires serving immediately after spreading the whipped cream, so it is best for a company dinner. For just the two of us, it's too much, so we shall pick off the fruit and let the rest go. It has a pleasant, light taste, although the whipped cream would taste better with some superfine sugar mixed in. It was easy, but it required a big time commitment (1 hour in the oven, then to be left in the oven with the heat turned off until it cools completely); hopelessly American, next time I am likely to skip the meringue and use Lite Cool Whip in individual ice cream dishes. Used the inside of a 9-1/2-inch pie plate to mark a circle on the waxed paper. Added ingredients: strawberries and raspberries, kiwifruit, cherries, chopped macadamia nuts and coconut flakes for the fun of it. Made for the Bodacious Brickhouse Babes for ZWT5.
Draw a 7-inch circle on waxed paper or baking parchment and place on a baking sheet. Beat the egg whites in a mixer bowl until soft peaks form. Add the sugar gradually, beating constantly until very still peaks form. Beat in the vanilla, vinegar and cornstarch. Spread or pipe mixture inside circle, forming a depression in the center.
Bake at 300 degrees for one hour or until firm. Turn off the oven, leaving the meringue to cool in the oven. Invert the meringue and remove the waxed paper. Place right side up on a serving plate.
For the best results, the cream should be whipped just before serving. Spoon it into the depression in the meringue and arrange the berries on the top to serve. Garnish with mint.