Paul's Italian-Style Meatloaf
JustJanS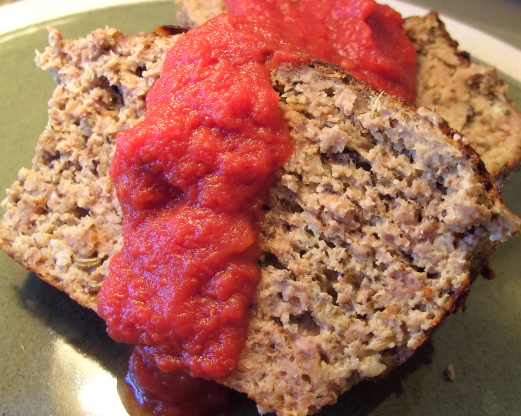 A twist on the old standard meatloaf. This is from someone who used to run an old BBS that had a cooking "echo". I use 1/2 ground beef, and 1/2 ground turkey. Use a commercial canned marinara or make your own.

Mikekey this is a really great recipe. I never have used a red sauce over meatloaf and I really liked this so did DH. He had 3 slices!!! He also kept saying this is really good like this! Thank goodness I doubled the amount, now we have some for another dinner. This is a definite repeat performance! Made for MAKE MY RECIPE TAG ~ Ed'tn 14
Pre-heat the oven to 350°F.
Put a cookie sheet in oven while preheating.
In a large bowl, mix together the beef, breadcrumbs, milk, egg and spices.
Heat the oil in a skillet. Add the onion and garlic. Cook until just soft.
Mix into the meat mixture.
Put into a loaf pan. Place loaf pan on preheated cookie sheet and bake for 1 hour or until firm in the middle.
Cool slightly and slice.
Heat marinara sauce, and top slices of meatloaf with it.