Paul's Homemade Almond Banana Protein Bars
Sessa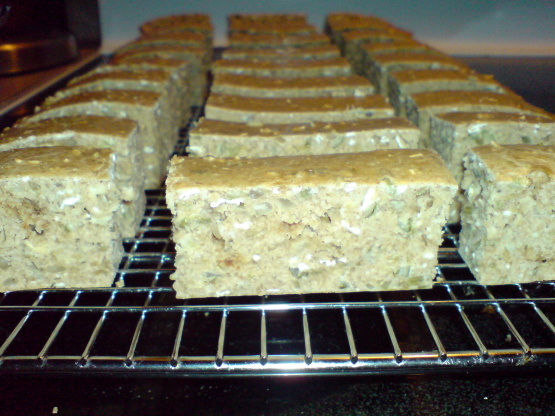 This recipe was given to me by my brother, a fitness buff who really cares what he puts in his body. The recipe is quite versatile, so you can swap out ingredients to your liking.
I think the key to making this recipe is not to overbake. I think that's why mine are so dry. Here's a few of the changes I did as you mentioned in your forward about the versatility of this recipe. I agree. I used all-natural p.b. skipped the pumpkin seeds. Used skim milk in place of soy and wholewheat flour in place of spelt. I like the overall concept of this recipe as it's got all your good-for-you ingredients plus the use of protein powder is always a plus for me being a vegetarian. Thanks for posting.
Mash banana.
Mix all ingredients in a bowl.
Coat a 9x9 pan with butter and pour mixture in pan.
Bake at 325 for 20-25 minutes.
Cut into 10 bars and enjoy!