Paula's Spinach and Mushrooms
Prep 10 mins
Cook 15 mins

Quick, easy and very tasty. Unfortunately not my creation ( gosh darn it), this comes from our very famous Paula Deen.
Directions
In a large skillet, melt butter and oil, add mushrooms, cook until they begin to soften ( about 3-4 min.).
Add leeks & garlic; cook until tender about 3 min, add broth, cream, juice & salt; cook about 2 minute.
Stir in spinach and lower heat, stirring frequently until spinach is wilted ( about 2 min).
Place in serving bowl, sprinkle with cheese and stir to combine, serve.
Reviews
Most Helpful
*SO* amazing...maybe my new favorite side dish! I used shiitake mushrooms. This shrinks down so much -- this amount only serves 1-2 people.

Delightful and easy! I used 8 oz. of baby portabella mushrooms, sliced and a 9 oz. package of fresh spinach. The leeks were really a special touch (I love leeks)! Because the spinach cooks down so much, I will definitely double this recipe next time. The cream sauce was delicate yet flavorful. I ended up using leftover turkey broth from Thanksgiving, which worked out fine. Thanks for sharing this keeper.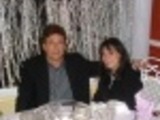 Amazing! The leeks, portobello, and garlic takes this recipe over the top. I used fat free half and half and stock left from Thanksgiving turkey. I think it would be creamier with the whipping cream, but I loved it the way I made it. I halved the recipe, but actually used more spinach (I mashed it down in the measuring cup so I'd get more....I know how it disappears when you cook it!). A definite make again dish. Just sorry I didn't make this when the sun was out so the photo could do this beautiful dish justice. Thanks for sharing!