Paula's Cream of Broccoli Soup
BarbryT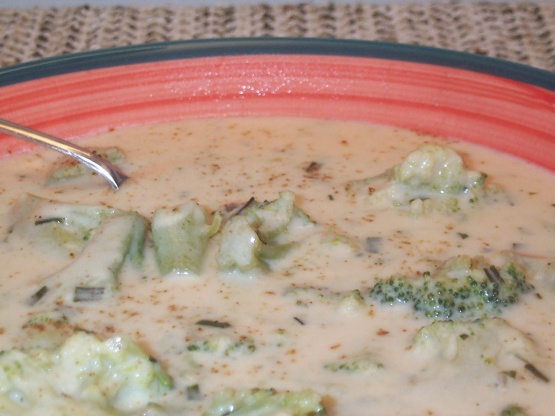 This is my family's favorite soup ... even my kids enjoy it! I have made this for our church's soup suppers and I always come home with an empty crock pot!

This was as delicious as it was easy! I steamed the broccoli, but it would be even better with roasted broccoli. I used four cans of evaporated milk. Next time I'll use evaporated skim milk. I cut the butter to 5 tablespoons. I think it could be cut further to 3 tablespoons with no loss of flavor. I used Tony Chachere's cajun seasoning instead of Lawry's. I WILL prepare this regularly. Yum!
Melt butter in a medium saucepan and lightly sauté onion.
Add flour, bouillon cubes and seasonings, stirring until smooth.
Remove from heat.
Gradually whisk in milk.
Bring to a boil over medium heat.
Boil and stir 1 minute.
Meanwhile, cook broccoli according to package directions.
Add broccoli and simmer an additional 10 minutes.
At this point, you could put in a crock set on low until ready to serve.
NOTE: When I make this in the crock pot, I triple the cream soup base and add 2 packages of the broccoli florets.