Sometimes, simple is best!
Directions
On each salad plate, place 1 wedge of lettuce turned on its side.
Pour blue cheese dressing on wedge.
Sprinkle with tomatoes, green onions, crumbled blue cheese, and crumbled bacon.
Most Helpful
My hubby and I really enjoyed this simple salad! I added some chopped avocado and used recipe #55514 as the Blue cheese dressing. Thanks for posting!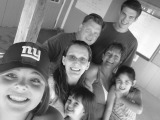 This is alot like the "lettuce wedge" from Lonestar Steakhouse, which I ADORE!!! It is wonderful and I'm so glad you posted it!!