Paula Deen's Spicy Chicken Empanadas
chopped7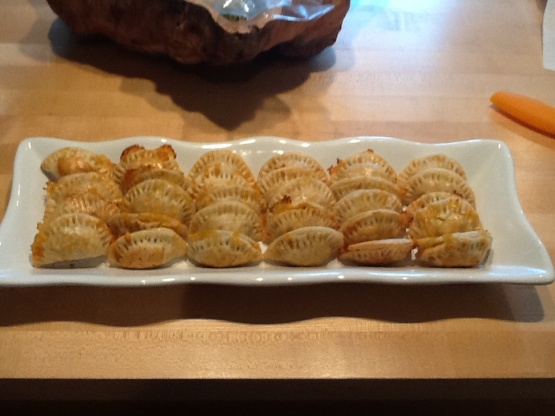 These are so easy and delicious! I thought Food Network was only for entertainment, but after watching (DVR'd) the episode of PD cooking these empanadas, I had to rewind and take notes! She called them spicy but they weren't (add more red pepper to kick it up a notch)!

Soooooo good. I've been making these for years. I also saw it on FoodTV (they re-run it all the time) and loved them. However, to use all the filling up, you need two boxes (four crusts) but the filling does freeze very well if wrapped tightly. I usually make a double batch (it makes about 70 using a 3 1/2 inch glass to cut out the circles) and takes me around 2 hours to do them all. They freeze well if you freeze them flat on a cookie sheet and then put them in a freezer zip loc bag once they're frozen. I cook these straight from the freezer (not thawed) and they come out great. Don't forget the egg wash - it makes them look very pretty and professional.
3

cups cooked chicken (finely chopped)

4

ounces cream cheese
1⁄4 cup diced red bell pepper

1

jalapeno, diced & seeded

1

tablespoon cumin

1

rolled refrigerated pie crust (boxed dough)

1

egg
Preheat oven to 400°F.
Mix all ingredients (except the dough and egg) in a large bowl using rubber spatula.
Roll out the pie crust dough and cut circles, about 5 inches in diameter.
Spoon filling into the middle of the dough circles.
Wet your finger and run it along the edge of the circle(this helps it stick shut) - fold circle in half and pierce the edges with a fork that has been dipped in flour (to prevent sticking to the dough).
Beat the egg and brush over the empanadas.
Bake at 400°F for 15 minutes.