Paula Deen's Sausage Swirls
Lvs2Cook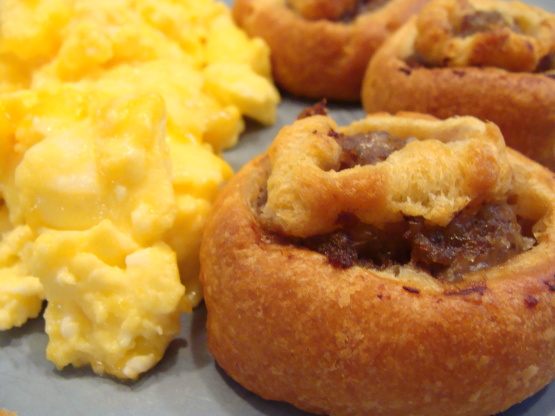 These are perfect for breakfast! I modified the recipe a little bit and I half the recipe. I use less fat sausage and crescent dough. I think they would be excellent as an appetizer with hot sausage. Chilling time is not included in the prep or cook time.

easy to make and can be made the night before and reheated - but did not like the taste or texture - I need to search for other similar recipes with more flavor.
Open dough and keeping in one piece as much as possible, place on a cookie sheet, unroll carefully, and pinch all the edges together. Do this for both cans of dough.
Open sausage, cut the roll in half, and spread half thinly over both pieces of dough.
Roll up the dough lengthwise. Place dough in refrigerator for 30 minutes until firm.
Preheat the oven to 375º.
Cut rolls into 1/2 inch to 1 inch pieces and place the swirls 1/2 inch apart on the cookie sheets.
Bake for 20 minutes until golden brown and sausage is thoroughly cooked.