Paula Deen's Pimento Cheese
nisea916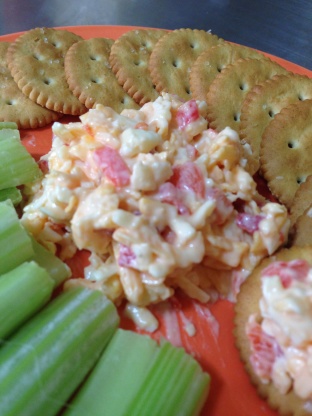 From Paula Deen Food Network. I make these for our Christmas Eve celebration for the family. We loved them.

I have never liked Pimento cheese, due to the fact it had cottage cheese in it, which I can not bring myself to eat. I just assumed, that was the way it is made. I attended a cocktail party last year and pimento cheese was served along with crackers. The hostess said " you have to try this" I explained, that I don't like cottage cheese, she assured me, that there was no cottage cheese in this recipe. I tasted it and, it was delish. I just made this recipe and it, is also delish. I grated one 8oz. block of chedder and 4 oz. of monterey jack, I also added a couple pinches of cayene pepper. I had it on a slider bun, can't wait to taste it after it sits in the fridge for awhile. Thanks for sharing!
Mix the shredded cheese together with the pimientos. Stir in the mayonnaise.
With a metal spoon (pimientos will stain plastic or wood), stir until the mixture is well blended.
Add salt and pepper to taste and stir again. Keep covered in the fridge until ready to use.
Serve with corn chips or bread.