Paula Deen's Layered Mexican Cornbread
Chef*Lee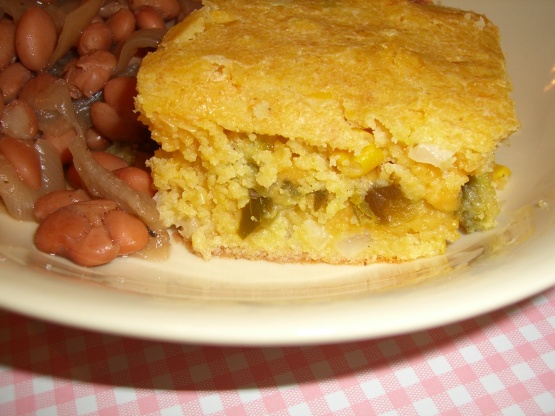 From Paula Deen's visit on "The view" Looked so yummy. Haven't tried it yet, but it's Paula Deen!
I made this at 1 1/2 times the measurement quantity because a 12" size skillet is what my grandmother always cooked in, so that's the size I use. I didn't have to adjust the temperature or time and the toothpick came out clean on the first check. It turned out the right thickness and the flavor was very good. I won't be buying and doctoring any more packaged mixes after trying this. Thanks.
Preheat oven to 350°F.
Grease an 8 by 8-inch or 9 by 9-inch square pan with softened butter or nonstick cooking spray.
Set aside.
In a large bowl, mix together cornmeal, flour, baking powder, milk, eggs, salt, and oil.
Stir in onion and creamed corn.
Pour half of batter into prepared pan.
Top with cheese and peppers, spreading onto batter.
Pour remaining batter on top of cheese and peppers.
Bake for about 35 minutes or until golden on top and a toothpick inserted into the center comes out clean.
Let cool slightly before cutting into squares.