Paula Deen's Layered Mexican Cornbread
Chef*Lee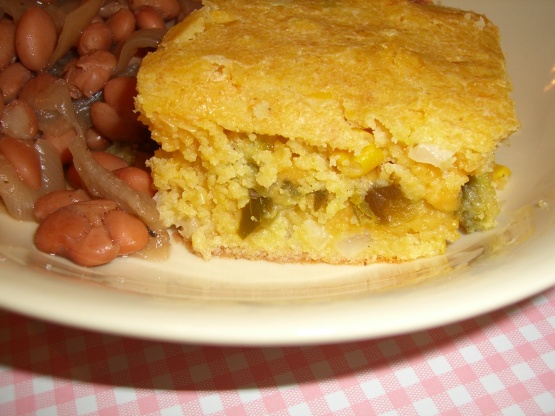 From Paula Deen's visit on "The view" Looked so yummy. Haven't tried it yet, but it's Paula Deen!

This isn't the "best" I've tasted but I ate 3 pieces so it was def tasty! My changes: I used canned jalepenos diced inside, I had to cook it way longer in a 9 x 9 and I only had skim milk. Not sure if the milk affected it. It was so moist and cheesy I wasn't sure if it was done-which could be a good thing. I would cut down the cheese a little if using a 9x9. Next time I would use a 9 x 13, cut down the cheese, and try whole milk. I gave 4 stars because the time is incorrect and I think it would've over flowed in an 8 x 8. I would also use a bigger onion next time I couldn't taste it at all. Maybe a med/small? And possibly more salt... this was just a little bland to me. But I will try it again!
Preheat oven to 350°F.
Grease an 8 by 8-inch or 9 by 9-inch square pan with softened butter or nonstick cooking spray.
Set aside.
In a large bowl, mix together cornmeal, flour, baking powder, milk, eggs, salt, and oil.
Stir in onion and creamed corn.
Pour half of batter into prepared pan.
Top with cheese and peppers, spreading onto batter.
Pour remaining batter on top of cheese and peppers.
Bake for about 35 minutes or until golden on top and a toothpick inserted into the center comes out clean.
Let cool slightly before cutting into squares.