Paula Deen's Faux Crab Cakes
Prep 10 mins
Cook 10 mins
Easy faux crab cakes save you time and money. Recipe courtesy of Paula Deen.
Directions
Heat 1-inch of oil in a large skillet over medium heat.
While oil is heating, combine tuna, beaten egg, green onions, mayonnaise, 1/4 cup bread crumbs, and lemon juice, to taste, if desired.
Form into patties and dust with additional bread crumbs.
When oil is hot, fry patties until golden brown, about 2 minutes on each side. Remove from oil and drain on paper towels before serving.
Reviews
Most Helpful
Well, this is the first time I didn't like a Paul Deen recipe. It could have been the tuna that I had which was light, packed in water. But it just tasted like tuna cakes, I even tried adding old bay and that helped but, I don't think I will make again. Nice try though.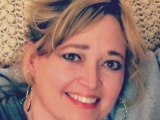 I had a couple of cans of tuna and wanted to do something other than tuna fish sandwiches.And decided to do a recipe search, and found this recipe.So, I made this on 9/26/08 for mine and SO's dinner.I did however make a change, didn't have any green onions so the same amount of white was used.For the optional lemon juice, about 1 1/2 teaspoons was added.Also, salt and pepper was added for a bit more flavor.I didn't read the recipe carefully enough, and added the all the breadcrumbs to the recipe. But I really don't think that affected the final results. I've never eaten crab cakes, so I can't compare the taste,But they tasted good to me. Thank you for posting and, "Keep Smiling :)"