Paula Deen's Chicken Divan
Lainey39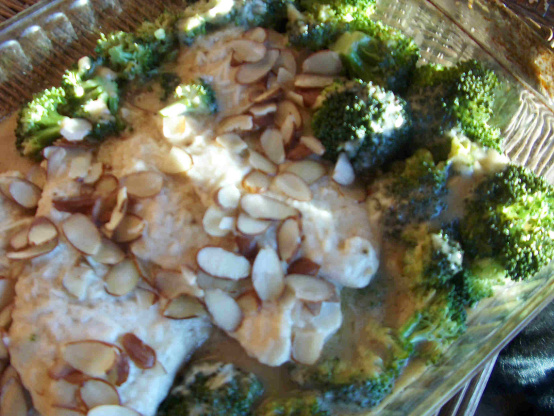 This recipe is now my new very favorite recipe for chicken divan. The sauce is amazing and the almonds give it a nice crunch! It is so easy to prepare, too, but people will think it took you all day! This is from Paula Deen's magazine and it's one of her "Golden Ring" recipes.
Preheat oven to 350 degrees F.
Lightly grease a 13x9-inch baking dish.
Place broccoli tops around edges of baking dish; set aside.
Sprinkle chicken evenly with salt and pepper.
In large skillet, melt butter over medium-high heat; add chicken, and cook 3-4 minutes per side, or until lightly browned.
Remove chicken from skillet, and place over broccoli, leaving as much butter in pan as possible.
Add flour to butter, and cook 2 minutes, stirring constantly.
Stir in sherry, cream and broth; cook 4-5 minutes, stirring constantly, until thickened.
Spoon sauce over chicken and broccoli.
Sprinkle with cheese and almonds.
Cover, and bake about 30 minutes.
Serve immediately.