Paula Deen's Cherry Cheese Trifle
DuChick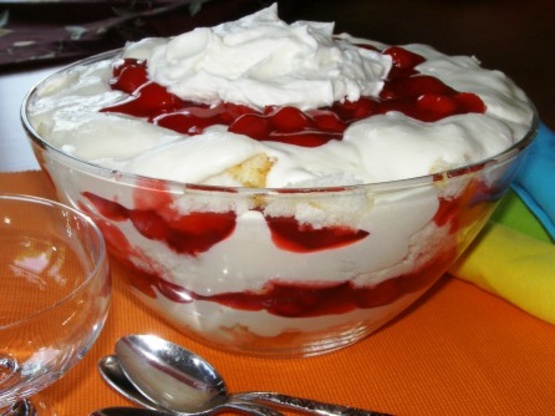 This is a great summertime dessert. No cooking! This came from Paula Deen's magazine. It is very quick and easy to make and makes a splendid looking dessert. Sure to be a winner at your next cookout.

I entered a dessert contest and won lst Place Judges Choice and 1st Place People's Choice. Great Christmas recipe too.
In a medium bowl, combine cream cheese and sweetened condensed milk.
Beat with an electric mixer until smooth.
Stir in 1/2 of whipped topping and almond extract; set aside.
Tear angel food cake into 1 inch pieces.
Place 1/3 of cake pieces in bottom of a trifle bowl.
Spoon 1/3 of cream cheese filling over cake, and top with 1/3 of pie filling.
Repeat layers twice more.
Spread remaining whipped topping over top of trifle, sealing to edges.
Garnish with additional pie filling and sliced almonds if desired.