Paula Deen Chocolate Mound Brownies
Beasneed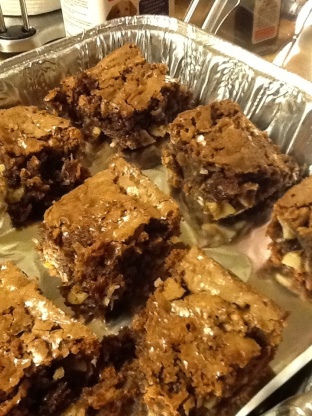 I'm not a chocolate lover, but these brownies remind me of Mounds bars. Nothing like coconut and pecans to go with chocolate to make it delicious. Recipe courtesy of The Lady & Sons Too (Paula H. Deen).

I made these brownies the first time for a bake sale at work. The money was voluntary and these sold for 5 dollars each! I didn't change a thing and they were absolutely delicious, fudgey and delightful.
Preheat oven to 350.
Grease a 13x9" baking dish.
In a large saucepan, or in the microwave, melt the chocolate and butter.
Add the eggs, sugar, and vanilla, and stir well.
Stir in the flour, baking powder, and salt, and then add the pecans and coconut and stir until well blended.
Pour the batter into the prepared baking dish and bake for 30 minutes.
Cut into squares to serve.