Julesong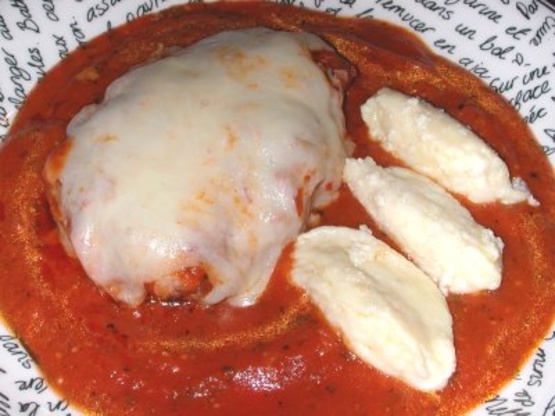 This is an adopted recipe that I hope to be making soon. I'll post any changes that I make to the recipe.

These were good and easy to make. I followed the recipe as written other then I cut the salt in half as a teaspoon of salt seemed like a lot to me. I didn't have cornflake crumbs so I used italian bread crumbs. Since others said the sauce was bland, I used my own spaghetti sauce as it is well seasoned. I used a cup and a half of sauce. I only had shredded cheese and that worked fine. I served on top of spaghetti. Everyone enjoyed it.
Mix the meat, onion, salt, Worcestershire sauce, and pepper together.
Shape the mixture into 6 patties, each about 3/4-inch thick.
Mix Parmesan cheese and cornflake crumbs.
Dip the patties into the egg, then coat them with the cornflake mixture.
Brown the patties in a large skillet over medium heat, turning once.
Drain off the excess fat.
Mix the tomato sauce and Italian seasoning and pour over the patties in the skillet.
Cover and simmer for 15 minutes.
Top each patty with a slice of cheese and cover.
Heat until the cheese is melted, about 2 minutes.
Serve the leftover sauce over the patties.