CA.TN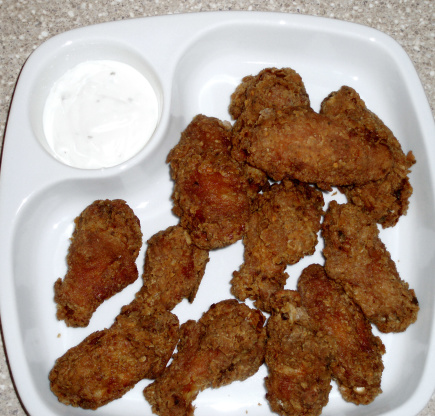 From Pat Neely, from Memphis Tenn., one of the hosts of Food Network's show "Down Home with the Neely's".

This review is for the wings only, which are soooo good. I dip my chicken in hot sauce as I eat it so it stays crunchy. BTW, my copy of the same recipe calls for 3 lbs of wings.
Combine ingredients for dipping sauce and chill for 30 minutes or more to incorporate flavors.
Whisk together the seasoning salt, red pepper flakes, black pepper, cayenne pepper, poultry seasoning and lemon pepper, reserving 2 tablespoons separately.
Rinse chicken wings in cold water, pat dry, and place in a shallow baking sheet. Sprinkle with the seasoning and let them marinate, refrigerated and covered with plastic wrap, for 1 hour.
Whisk eggs, hot sauce, red pepper flakes, black pepper and cayenne pepper into a mixing bowl and set aside. Place flour in a shallow plate.
Heat cooking oil for deep frying to 350°F.
When the oil is hot, dredge chicken wings first in the egg mixture then the flour. Fry in small batches for 8-10 minutes, being careful not to crowd, turning occasionally, until cooked through and golden. Drain on paper toweling or brown paper bags, sprinkling with reserved spice for added spice level if desired.
When oil reheats to 350F, add a few more wings to the fryer. Repeat until all wings are cooked.
Serve with spicy dipping sauce.