Bone Man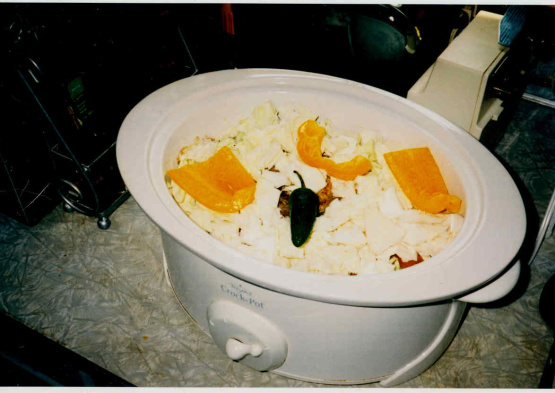 This is a Crockpot recipe, easy, hearty comfort food for BUSY MOMS or, for Sunday Dinner. I developed this cassoulet, combining traditional French and American Cajun ideas. The preparation on this one is a no-brainer and goes very fast. Basically, you just throw it together and it's best to have the larger, oval-type crockpot. You could cut the recipe back a bit and use a regular crockpot, perhaps, cutting it in half to serve two very hungry people. It is possible to add beans, as in a traditional cassoulet -- just add cooked (drained) red beans in the last two hours of cooking time. The recipe is versatile enough to add in other meats also. You could add a few thawed chicken parts, if you had some, in the last four hours of cooking time or, raw shrimp or scallops in the final 90 minutes of cooking time. If you have no cabbage, you could substitute a couple of dozen trimmed Brussels sprouts. That's much of the beauty of recipes like this one. If you do elect to use (raw) Italian sausages, leave them whole. Beginner cooks will have no problem with this "scratch" recipe. That's about it -- I hope you enjoy this unique cassoulet as much as my family does. It will definitely permeate your house with those delightful "home cooking" aromas!
4

large pork chops, rib chops, very thick

12

ounces smoked sausage or 12 ounces Italian sausage
1⁄2 head cabbage, roughly chopped

1

medium yellow bell pepper

1

whole jalapeno pepper

1

teaspoon poultry seasoning, I use Paul Prudhomme's Poultry Magic
1⁄2 teaspoon kosher salt
1⁄4 teaspoon black peppercorns, freshly milled

15

ounces chicken broth, canned

3

tablespoons olive oil, garlic infused-type, or, add fresh garlic

1

cup beer, warm
1⁄4 medium red onion, roughly chopped
In a large skillet, heat the garlic-infused oil and brown the chops. As they are browning, season with the salt pepper and poultry seasoning.
Pour the chicken broth and beer into the crockpot and start on high. Also, add in the chopped onion.
Slice the smoked sausage into eight chunks. If you are using Italian sausages, leave them whole. It doesn't matter that the sausage is precooked or not.
Lay the browned pork chops into the beer-broth blend in the crockpot, next add the chopped cabbage, then add all remaining ingredients. Set the crockpot to the HIGH setting for the first two hours, then reduce to the LOW setting for the next five hours. I use a LARGE, oval crockpot for this dish.
Serve with hot, buttered cornbread.