Prep 20 mins
Cook 1 hr 30 mins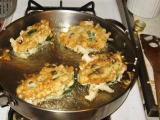 My top coney sauce. Enjoy!
Directions
Brown the burger and the sausage in a covered pot. Break it up while stirring.
Drain the grease and discard it.
Return the drained burger/sausage blend to cooking pot and add all other ingredients, EXCEPT for the grape jelly if you elect to use it. Bring to a boil, then immediately reduce heat to a simmer (covered) for 90 minutes, stirring frequently. Add the grape jelly (OPTIONAL) in the last five minutes of cooking, stirring it in until it melts.
If it needs thinned at any point, just add a little additional chicken stock.
Serve on hot dogs with tangy mustard, finely diced onions on steamed hot dog buns.
NOTE: I use the cheaper grade hot dogs to grind up such as the ones that include chicken and pork. Beef franks do not impart much flavor. Also, I prefer this sauce without the jelly but that is a personal taste issue -- you can decide at the last minute since that is when any jelly gets added, or you can split the sauce in half and use only one tablespoon of jelly in one of the halves.
Most Helpful
Darn good recipe for sauce! I used 3 tablespoons fresh garlic in place of garlic salt, also I increased the onions to two, and also increased the red pepper flakes to 2 tablespoons (we like extreme heat!) I used my Seasoning for Gound Pork (Italian-Style Sausage) in place of Italian sausages. Everything came together well. This makes a lot of sauce, so I plan on freezing some, I can't wait to use this on "dogs" and burgers, this is delicious! thanks for sharing this great recipe Bones!...Kitz:)