jlowens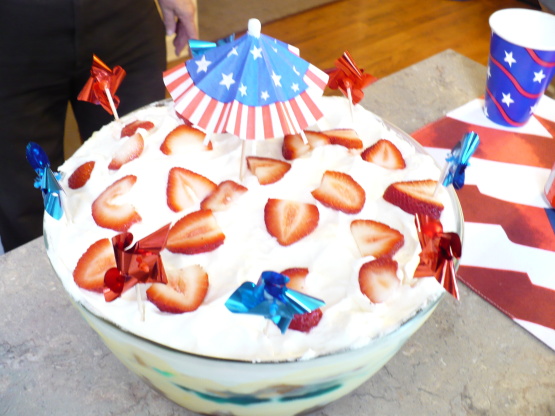 This is a beautiful dish and gets lots of ohhs and ahhs at gatherings.

SO I made this for the first time for a Memorial Day get together. EVERYONE LOVED IT. One guest called it "Pleasure in a Bowl". We loved it. I used pound cake instead of angel food (because it was on sale). It was really really good and can't wait to try it again. Thanks!!
Cream together cream cheese and powdered sugar.
Add sour cream, vanilla and Cool Whip.
Mix pudding as directed and add to cheese mixture.
In separate bowls add sugar to each type of fruit and let sit. You can also add a bit of orange juice to fruit mixture if fruit isn't very juicy.
In a trifle dish, or clear glass bowl, put a tightly packed layer of angel food cake pieces.
Drizzle a little orange juice over cake layer.
Now alternate layers of berries, pudding/cheese mixture and cake til dish is full.
Last layer should be pudding/cheese mixture.
Garnish with fresh berries.
Refrigerate at least 4 hours. This is really good made the day before too.
This is a beautiful dessert and looks very difficult so get ready to enjoy all the compliments you'll receive when you bring this dish to your next event.