Prep 20 mins
Cook 15 mins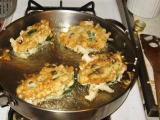 I need to eat sausage biscuits and gravy less often for health reasons -- but I don't seem to be able to overcome this particular vice -- lol! Anyway, here's a sausage gravy recipe that we like and I hope you do too. Enjoy
Directions
In a large no-stick skillet, melt the butter over medium heat and make a roux by adding the Wondra flour and whisking constantly.
As soon as the roux begins to start turning color (about 1-2 minutes), whisk in the chicken broth and then all other ingredients. Bring to a boil until the gravy thickens (it should do this very quickly), then remove from the heat. Add in the cooked sausage and stir.
If the gravy is too thin, sprinkle in a little more Wondra flour and re-whisk over heat. If it comes out too thick, just add more chicken broth over heat and whisk until desired thickness is achieved.
NOTE: It's okay to use whole milk or half-and-half if you have no heavy cream on hand -- it will come out just fine.
Most Helpful
Oh my gosh. Beats every sausage cravy I've tried. So delicious! And I didn't even have the Herb-Ox flavoring. However, I did have homemade roasted-chicken stock, so maybe that made up the difference. Very, very good.